History
The Crookstone Adventure Trust was founded in 1988 with the aim of re-opening a 400-year old Peak District outdoor activities centre, known as Crookstone barn, which had been unused since 1978.
The initial months of the Trust's existence were taken up with the recruitment of trustees, the creation of a constitution and the appointment of key officers. Police officers, Social Services staff, NACRO officials and skilled craftsmen formed the nucleus of these trustees. The first practical steps were taken to re-open the centre in 1989, but a survey revealed that the entire building would have to be gutted.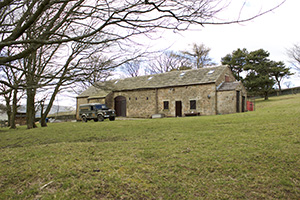 Initially, tools were carried on foot by volunteers, until people from Rotherham's Sherwood House raised several hundred pounds to buy a Land Rover and trailer to transport materials such as sand, cement and building blocks. The Land Rover was 16 years old, and over the next three years was to haul tonnes of material up the rough track. A major fund-raising programme was launched, which has realised more than £40,000. It helped to buy a two and a half tonne generator to produce electric power. The problem of delivery was solved by the RAF, who seized the opportunity of a real-world training exercise, and airlifted it in with a Sea King helicopter!
It soon became clear that the trustees alone could not provide all the willing hands needed on a regular weekend basis, so a wide variety of contacts were approached. The long-term unemployed, young offenders, residents of the local young persons bail and probation hostel and people with alcohol related problems, together with Scouts, Duke of Edinburgh's award candidates and college students made up a very mixed pool of labour. Those involved in these many and varied responsibilities gained enormously in skills, team work, self-confidence, a sense of achievement and self-discipline, as well as valuable work experience.
Our efforts were rewarded in 1992 when the Trust was able to accept its first group bookings. The barn has been in regular use since 1993. A further generator was added in 2005, funded by the National Lottery. This was again airlifted in by the RAF, this time using a Chinook helicopter.